SCHOOLMATE NUVO - ONLINE FEE PAYMENT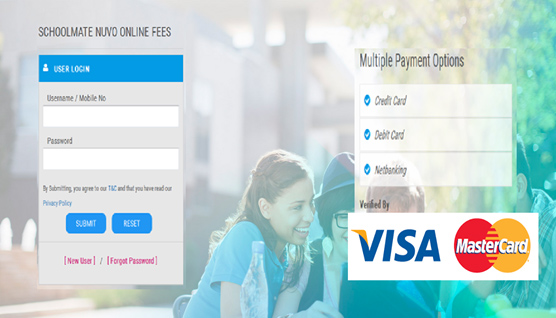 Fee Portal Link:
Open Website
---
User Registration
Click on the register button (home page upper right hand corner)
Provide mobile number registered in school for SMS (*** MAKE SURE YOU HAVE YOUR LATEST MOBILE NUMBER UPDATED IN SCHOOL***)
Validate your one time password(OTP)
Give a username and password of your choice
On successful registration you will receive an SMS confirmation
---
User Login
Login your Account using the username & Password provided by you.
Select your ward
Click on Fee Details to view Fees paid and Fees Payable details.
You can click on Pay Now to proceed to pay the Due fees.
---
Fees Paid
User can view term wise details of Fees paid through Bank / Cash.
If paid through online, can download online transaction details and duplicate fee receipt as PDF.
---
Fees payable
User can pay term wise fees.
Select Term / Month
Click on Proceed to payment.
---
Payment
Online Payment can be made using any one of the following modes:
Credit/ Debit Card (MasterCard / Visa / Maestro)
Internet Banking
It will proceed to bank payment page.
---
Credit / Debit Card Net Banking Details
Select your payment option and enter the details.
Refreshing the page or going back to the previous page during a transaction may cause transaction failure.
---
Fee Receipt
Once the transaction is successfully completed, user can download the Fee Receipt for future reference.
---
Duplicate Fee Receipt
Incase if failed to download Fee Receipt, login and download duplicate fee receipt
Click on Fee details -> Fees paid -> Duplicate Receipt.
---
Change Password
User can change the password any time.
---
Forgot Password
If you have forgotten your password, click on the "Forgot Password" link in the login page to have a password sent to you at the mobile number.
For any queries related to mobile number change / email change etc please give a request in the school
For queries related to pending or delayed transactions please contact
Schoolmate Nuvo Support number: 0471 – 4010025, 9567299650 (9.30 am to 5pm)